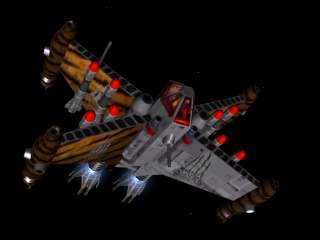 The SA-15 [2] 'Tiger' class Starfury is an older fighter design introduced in 2203, as a replacement for the Flying Fox Class Starfury. The first Starfury to use both the X shaped wing pattern and ejectable cockpit system, the Tiger Class was the primary fighter for the Earth Alliance until the introduction of the Nova Class Starfury after the end of the Dilger war in the early 2230s.[3]
Although outmoded compared to more modern fighters, the Tiger remained in service with Earth Alliance colonies as late as 2250.[2]
References
Edit
↑

Cochran/Tuffley/MacMurdy/Ryan/Sparks. 1997. Page 10
Bibliography
Edit
Cochran, Joseph and John Tuffley. Dale MacMurdy, Charles Ryan and Zeke Sparks. Babylon Project Earthforce Sourcebook. 1997. ISBN 1-85286-861-9
Ad blocker interference detected!
Wikia is a free-to-use site that makes money from advertising. We have a modified experience for viewers using ad blockers

Wikia is not accessible if you've made further modifications. Remove the custom ad blocker rule(s) and the page will load as expected.