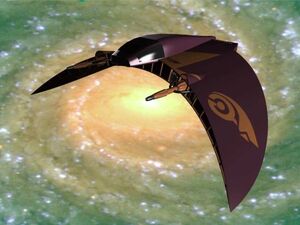 Description
Edit
Other than the Minbari Starfighter, this fighter is the most advanced starfighter design built by any of the younger races. This fighters is capable of much greater velocity than the fighters constructed by either the Narn or Human races. While the Shadows were the ones that killed more Narn forces than anybody else, the Centauri star fighter did destroy more than their fair share of Narn starfighters. Unlike the human SA-23E Aurora Starfury, the Centauri starfighter is capable of operation in both space and the atmosphere.
The fighter is incredibly maneuverable because it uses both a gravity based propulsion system and an incredibly powerful ion drive. The fighter also has a powerful inertial dampener but is not as efficient as those on Minbari Starfighters. Because of this, part of the inertia will be felt by the pilot. To compensate for the possibility of the pilot going unconscious, the fighters computer is a relatively advanced AI that can take over for the pilot. Because the fighter is very limited for space, the fighter does not have a true internal gravity system and the pilot is in freefall.
The armor of the Centauri is thinner than that used on the SA-23E Starfury but is constructed out of more advanced alloys. This allows the fighter to withstand more damage than the SA-23E but the fighter cannot withstand as much damage as the SA-26 Thunderbolt can. Like the fighters of all younger races, the fighter does not have shields which means that all hits will strike the fighters hull itself.
The fighter has a power mixed main battery. While the weaponry is not as powerful as the Particle Laser cannon on the Earth Force Starfuries, it is are more powerful than the pulse cannons on the starfuries. The fighters energy weapons are two ion guns and two pulse cannons. The ion cannons can inflict more damage but have a shorter range than the pulse cannons. When both the pulse cannons and ion cannons are in range, they can be combined together. Supporting the energy weapons, the fighter carries two medium range missile launchers.[1]
Specification
Edit
Statistical Data
Edit
Light Ion Guns (2)
Edit
Light Pulse Cannons (2)
Edit
Medium Range Missile Launchers (2)
Edit
Special Equipment
Edit