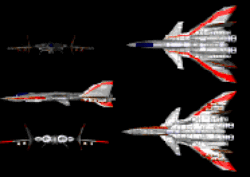 Description
Edit
This fighter was one of the first fighter designs which was equipped with a jump drive to enable it to go through jump points. Prior to the introduction of the Morningstar in 2668,[1] the only small craft with a jump drive was the Broadsword bomber which is far larger, 100 metric tons compared to 22 metric tons for the Morningstar. The initial prototype fighters had many problems with their jump engines and there have been cases where the whole ship fails due to power surges. The fighter was first tested in the notorious Wild Eagle Squadron with the infamous Major Todd "Maniac" Marshall in charge. Even after the disastrous Deneb Campaign, the Confederation allowed further Research and Development of the Morningstar fighter. Since the initial prototypes, the Morningstar fighter has been refined with a more reliable jump drive, additional missile hard points, and updated flight control systems.[2]
For weaponry, the fighter mounts three particle beam cannons which all fire forward. While not as powerful as the combination of two particle beams and two mass drivers carried on the Sabre, the fire power of the fighter is still considered respectable by most and the Morningstar has the advantage in long range combat against the Sabre due to three particle beams. Acceleration and maneuverability are virtually identical to the Sabre fighter and they are of similar size and mass as well. For missiles hard points, the Morningstar has seven missile hard points. Three hard points are rated for anti-ship missiles while the other four are rated for long range anti-fighter missiles. Shields on the Morningstar are also equal to those carried on the Sabre.[2]
While in many ways an excellent fighter, the Morningstar spent a short time in active combat service with many new fighter designs entering service which also carried jump drives. Also unfortunate for the fighter was the fact that received with less-then-stellar reviews from their pilots, most of whom were previously Sabre pilots and were critical about what they perceived as weaknesses compared to the Sabre heavy fighter. Still, the Morningstar's long range endurance, jump drive, and large anti-ship payload made it an excellent scout fighter. As well, the Morningstar was the preferred fighter for Special Operations Command up until the Battle of Earth.[2]
Specification
Edit
Statistical Data
Edit
Weapon Systems
Edit
Triple Particle Cannons
Edit
Missile Pylons (8)
Edit
Anti-Missile Decoy Dispenser
Edit
References
Edit
Bibliography
Edit
Ad blocker interference detected!
Wikia is a free-to-use site that makes money from advertising. We have a modified experience for viewers using ad blockers

Wikia is not accessible if you've made further modifications. Remove the custom ad blocker rule(s) and the page will load as expected.