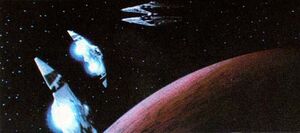 Description
Edit
This fighter is feared on numerous Colonial planets. This fighter is used by the Cylons and while not as maneuverable as the Colonial Viper , is still dangerous and often attack in large numbers. This fighter can be launched from both ground bases and starships.
The fighter is armed with two laser cannons beside the pilots cockpit as its main weapon system. The fighter can also carry 4 anti-ship missiles for missions against capital ships. Missiles are carried on the underbelly of the craft.
This fighter does have some disadvantages when compared to other starfighters. These are that unlike many C.A.F. and Kreegor ships, uses an ion engine that has a much shorter duration than the contra-grav engines used on many other starfighters and fighter does not carry many missiles.[1]
Specification
Edit
Statistical Data
Edit
Weapon Systems
Edit
Twin Turbolaser Cannons
Edit
Two (2) Anti-Ship Missiles
Edit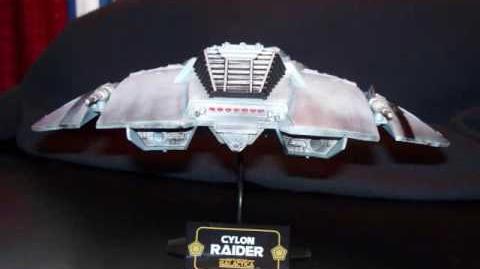 Ad blocker interference detected!
Wikia is a free-to-use site that makes money from advertising. We have a modified experience for viewers using ad blockers

Wikia is not accessible if you've made further modifications. Remove the custom ad blocker rule(s) and the page will load as expected.